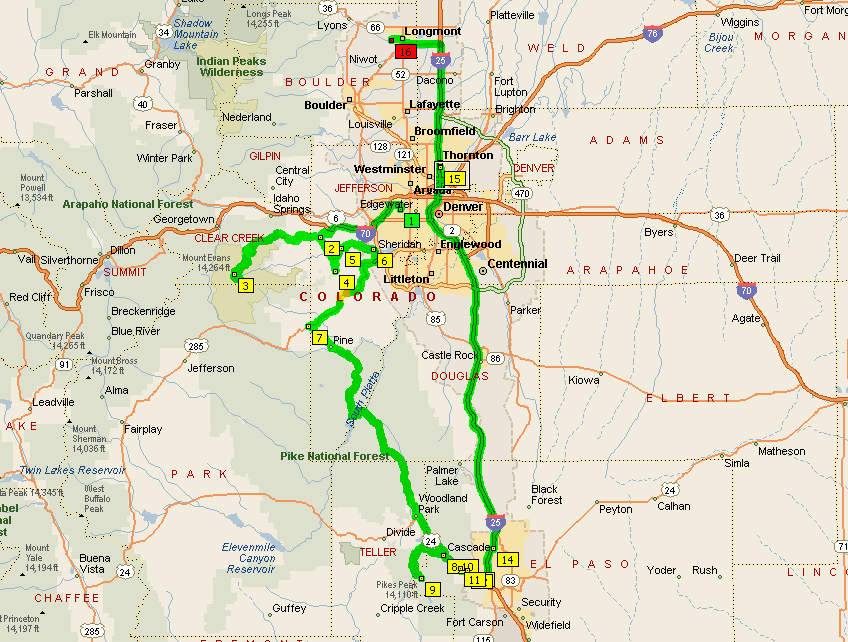 CO-HSTA Games Day Ride
August 14th, 2004
366 Miles
Photo Album
Carl's Ride
Be prepared. The night before the ride I go through my gear and check the weather reports. Since the instructions in e-mail suggest multi-state rides, I make sure I have maps of the surrounding states. I also go through my touring and commuting gear and grab a set of cold weather gear. Gerbings jacket liner and gloves and my scarf. I also grab my wet weather stuff. TourMaster two piece, gloves, a couple of Wal*mart bags and my Totes. I make sure the wet weather covers are packed. I snag my CruzTools kits; metric, electrical and tire. Finally I gather my electronics; Autocom system with my iPod and cell phone.
In the morning I plug the cell in to the Autocom and pack the cookies I baked for dessert at the BBQ. Since Rita's not coming, I'm going to give it to Brian to take home.
Following Brian's instructions, I head south on Rt 25. At I-76 I head right and towards Kipling Street. I couldn't remember for sure, but I thought 76 and 70 merged somewhere in this area. I headed south on Kipling. I saw 44th, 41st, 38th and on down. I waved at a couple of guys on bikes as always. Hmm, I don't see any numbered streets. I wonder if I've crossed under I-70 yet. Hey, there's Colfax and someone on a dirt bike. I wave as he makes the left on to Kipling. When the light changes, I head over the hill. Hey, there's a freeway, maybe that's 70. Shit, that's 6. I've gone too far. Make a left (couple more guys on bikes), read the instructions for going north. Pass 20th, look for a carwash on the left. Ahh, there it is, with the bikes behind it at the Taco Bell looking place. Roll in at the wash (wrong entrance), roll down the sidewalk and in to the parking lot, pull up and park between a couple of bikes.
Meet and greet everyone. I recognize Jim from the Pourdue ride. Someone else says, "hey, didn't I just pass you?" "Yea well, I missed the turn." :-) Brian gives me my copy of the CO-HSTA Games Ride clue sheet. The cookies are put in to his truck. I start reading. Having never done something like this before, I see that there are a lot of clues. Hey, there's Mt. Evans. Rita and I've gone up there so I know where it is. I check the map, where's Pikes Peak? Rita said it's down by Colorado Springs, ahh there it is. I think I'll do the peaks, especially since I already know where one is. Brian asks me where I'm planning on going, "just the peaks and if there's time, some long rides to Kansas, Nebraska and Wyoming." He writes down my starting mileage, 7717 (hey, there was only 4230 on it when I bought it). I drop my license in an envelope and Brian signs it (well, after I take it back out of my pocket). I pack up my map and the list and head off south to Rt 6.
Route up to Mount Evans at 14,264 feet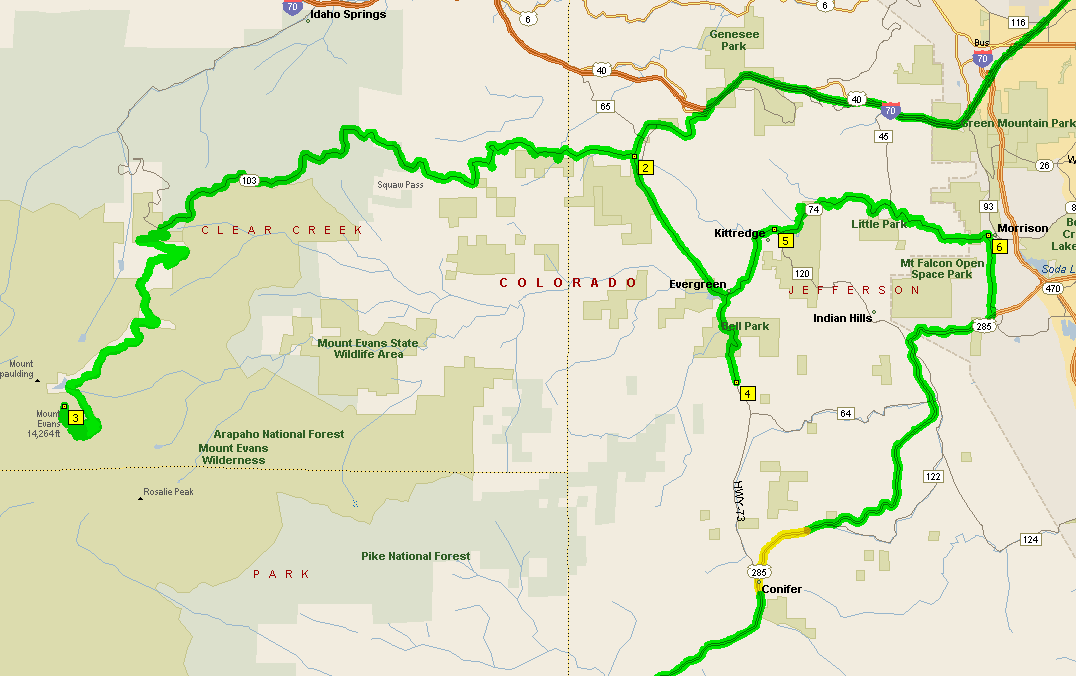 The ride up to Mt Evans is uneventful really. The twisties on 70 on the way up were very nice. On Rt 74 there was a deer in the left lane slowing traffic down. Lots of the folks on the way up the mountain were nice enough to pull over. With Rita on the back, she complains about the speed of me taking the corners on the Harley. She'd probably fall off the way I took them on the 'busa :-) There are loads of bicyclists going up the road. I have to tap the horn once in a while so they'll share the road (2 and 3 across). When I get to the gift center there are a couple of guys on Harleys and we chat for a few seconds. Their wives didn't want to head up the mountain so they're hanging out at the motel. It is a bit chilly here but not too bad.
So I head up to the gate. The entrance fee for my bike is $3.00. She warns me about the state of the road up by the lake. I tuck in the receipt and pamphlet, put the change in my wallet and start up the mountain. Again, it's a very nice day for a ride. I really enjoy the additional freedom not having Rita on the back gives me for taking the turns. There are a few bicycles this far up. Most are still heading up 103.
The traffic is light enough that I don't have to pass many people and it's a nice straight shot up to the parking lot just below the summit. I park the bike next to four other guys there on two bikes and prepare to hike up to the summit. I can see a couple of folks up there. I find the path and start huffing. It's 14,000+ feet here and I'm a tad short of breath even though I live at a mile high and exercise regularly. Signs warn of dizziness and being wary of your footing even if you're a regular exerciser :-) Finally at the top and there's a couple at the highest point along with a couple of other folks.
After a moment, I ask if one of them would be so kind as to take my picture. I get the camera set up, show the guy how to take a picture and ask that he try to get my bike in the parking lot into the picture. While he's taking the picture I explain that we're on a "poker run", figuring it's easier than trying to explain the points and whatnot. Sure enough, he's been on boat poker runs and immediately understands. I thank him and head back down to the bike.
Going back is much easier than the trip up. Maybe it's the increased oxygen. At the lake I stand up on the bike to get over the damaged road. This is actually pretty fun even though it's a bit of a strain as I get to the end. I finally get to 74 and make a right turn heading towards Pikes Peak. According to my Colorado map, 74 is a dark straight line south with a north branch at Evergreen so my next turn is at Evergreen and I'll need to keep following 74 south. So I get to the intersection and it says 73 to the right and 74 to the left. Ponder ponder. I turn left following 74 but then think that 73 might also be 74 so I turn around back to the light and head down 73. Ultimately I'm looking for Rt 285. About half way down 73 I pull in to a station and ask the lady if she has a map. Not for sale, but I can look at hers. While I'm unfolding I mention that I'm trying to get to 74 south and she says that I made a wrong turn back at Evergreen and should have taken the left at the light. Ahh, ok. I thank her and head out. Back to the light and to the right (what would have been the left) and continue on. Eventually I see that I'm coming out of the mountains. This can't be right but I keep going. Eventually I see a sign for 285 and I make a right turn on Rt 8 south. A few miles later and I'm on 285 and heading south again. Eventually I pass Conifer.
Ok, next turn is at Rt 126 south and it's in Pine Junction. I get through a couple of small towns and eventually find Pine Junction, another smallish town but I don't see signs for Rt 126. I roll through town and get to the other side. I figure it's at the light I passed so I turn around and head back to the light. Sure enough, there's a small green sign; Rt 126 to the right. Right turn at the light and I'm on my way again.
This is a smaller two lane and a nice little ride. I'm zooming around corners and enjoying myself when I start seeing little red patches of sand and gravel and start slowing down. I'm following the lines in the road to go through the turns. It's making it a little harder and at one point I slip over the double yellow just a touch and fortunately there's a biker coming the other way. I shake my head in apology and continue on. While the sand and gravel continue in patches for a bit, I don't make that mistake again.
It's noonish at Deckers, so I pull in and grab a soda and a bag of sunflower seeds. I hate food coma so I decide not to grab some food and a half bag of sunflower seads and a mountain dew will just have to do.
After a snack I'm on my way again, this time down Rt 67. At Woodland Park I make a right on to 24 and see that I'm heading away from Pikes Peak and turn around. Making a right on 24, I start down the mountain again. Rita calls me on the cell phone but while I can hear her, she's unable to hear me. Too much static she says. There's the Pikes Peak exit and I head up the toll road. At the gate I pay the 10 bucks, get a receipt and a pamphlet and head on up. It's 19 miles to the peak but it says to allocate 2 hours. For only 19 miles? That seems a bit excessive. Maybe they're adding in stopping to look at views or something.
Route up to Pike's Peak at 14,110 feet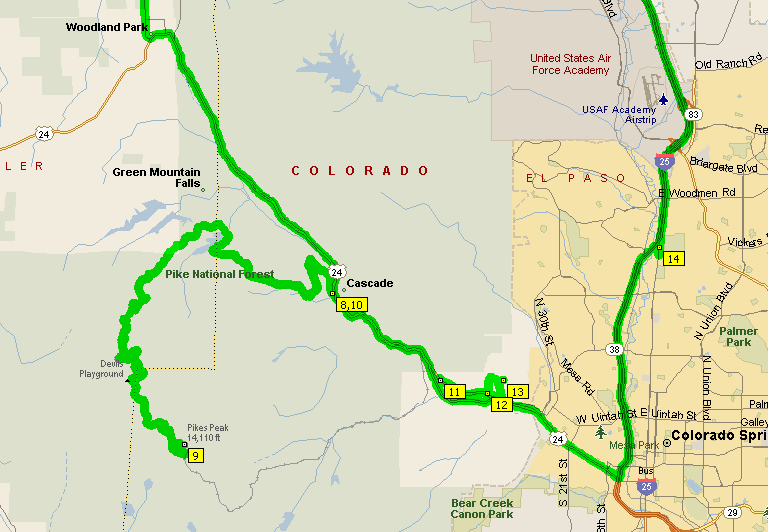 The first 9 miles are quite fun. I pass over Crystal Lake and get to mile marker 10 and the road turns to dirt. Rutted dirt at that. The cars, trucks and suvs are throwing dust in the air making it difficult to keep my shield open for air. They pull over one after another to either let me by or look at the view, which is spectacular. If it wasn't so late, I'd stop and take a few pictures myself. There's a car that keeps to the center of the road even forcing oncoming traffic to really hug the wall. I'm thinking he doesn't want to go over the edge but there's enough room that I could easily pass him on the right if the road wasn't so bad. At one point there's a car that appears to be stuck in a turn. People coming down are going to the right of him and the guy in front of me goes to the left. Being tired of being behind him, I go to the left of the car and get in front of him. The joke's on me though. There's a very long line of cars, trucks and suvs a bit farther along.
Eventually we get to some sort of way station and the folks in front pull over and stop. I keep on going up. More traffic and more dirt. The bumps were quite distracting at times but if I kept to the middle of the right side, I missed most of them.
Finally I get to the top and park the bike. I'm pretty covered with dust and dirt. I called Rita and she wants me to get a national park pass if I go to one. Okay, no problem if I go through one. Had she told me earlier, I could have gotten one at Mt. Evans. Anyway, I head up to the platform and check the view. Damn you can see for quite some distance. I was checking out the view when I heard a loud horn. The train was announcing that it was almost time to go. I checked the paperwork and realized I had to get something from the gift shop so I headed over. I found a nice little bike pin and picked it up then headed back to the bike.
On the way back down I spotted a couple of the mountain goats and snapped some shots. There were other people taking pictures and even climbing up to get close ups. At the way station they were making vehicles stop and checking the disks for over heating. He just waved me through though. A bit farther down and I'm back at the pavement. Whew and I'm covered in road dirt. At about a mile from the entrance some big dog comes running out in the street barking at me. I beep at him and several folks just a few yards down come running out of the woods. Leash! Use a leash! Idiots.
I make it back to the station and head back down the hill. At 24 I hang a right and head towards Colorado Springs. It's about 3:30 and I'm thinking that with traffic and others I've heard talk about it, I'll probably just make it if I begin heading to back to the compound. As I get close to The Garden of The Gods, I decide it's a museum and I can use a couple of extra points so I make the exit and head over. Rita and I visited a couple of weeks ago so I knew about it. There was a wedding going on so there were quite a few cars. I made it to the visitor's center and picked up a GOTG pin for proof. Back out to 24 and down to 25 north.
Hey, I'm sure there's a Harley dealer or two on the way home. If nothing else, Sun HD is north of Denver. I should be able to make at least one dealer and get a t-shirt and bear. Sure enough as I get close to Nevada Ave, I spot Pikes Peak HD and pull in. Funny thing is there are 15 or 20 Harleys and just one Hayabusa :-) I hunt through the t-shirts and find one to my liking. I also found a little Harley bear. I get up to the counter, after listening to the two goofs from Tennessee chatting and present my purchases. I give her my debit card and she asks, "can I see your ID?" Ooops, can't do that. "Nope." Heh, she looks a little surprised so I explain that I'm on a "poker run" and am gathering up points. If I break the seal on the envelope, I'll lose 5000 points. Even though it's really for ticket proof, the papers say "for any reason!" so I rummage around and am fortunate to have enough cash for the purchase. I pack it up and head on out.
The ride up 25 is interesting. Traffic is running 85 to 90 so I'm able to get some speed going. At one point a couple of guys, one on a standard and one on a sport bike come up behind me and follow for a bit. When I get hung up behind a couple of cars, they zip to the far right lane and boogie on up. I find an opening and get up behind them. We're following a car and SUV as they fly up 25. At one point, just as we're approaching 470, I look down and see a number higher than I wanted to go even if left lane traffic isn't slowing down much and throttle it back down. Higher speeds are fine on the open highway but as we're going through town, I don't think so.
At 84th street I head off looking for Sun HD to get another shirt but it's 5:02pm and they're closed. Back on the freeway and time to head to the compound. I can still get soda, chips and dip and make a few extra points. I consider calling Rita but she's said several times that she didn't want to go so I buzz by Broomfield and on up to Longmont. At the "Quickie Mart" I pull in, grab a 12 pack of sodas, a bag of Tostidos and a jar of medium salsa. I pack it up on the bike and start to head out. There's a run off bit of concrete in the middle of the parking lot. The front end rolls in to it and it surprises me throwing me back a bit. Since my hand's on the throttle I blip it and it jerks my head back even harder. Whiplash. Man that's sore. Fortunately I didn't let go but it wasn't by much.
I follow the directions down to the end but only see a dirt road to the left. As I pass by I realize it's the turn I was supposed to make. A quick U-turn and a right and I'm at Brian's place. I get there at 5:55, just 5 minutes before the end of the run. Not bad. I roll the bike in to the garage as instructed and head back to tally up my points. Ending mileage is 8083 giving me 366 miles. Brian insists I get points for being in Pike National Park and for going over Squaw Pass which is the road to Mt Evans (hey, I went over it twice). I get points for Garden of The Gods, Sodas, Chips and Dip, the Harley t-shirt and bear, Pikes Peak, Mount Evans, mileage and envelope for a total of 7,800 points.
Not a whole lot but still. Plus I got the $10 prize for arriving the closes to 6pm without going over.
Note that I had to double back more than once. "Wasn't that the right road?" as I went by. The mapping software I used actually pointed out that I could have been more efficient with my time but that's the way it goes. I'll do better next time :-)