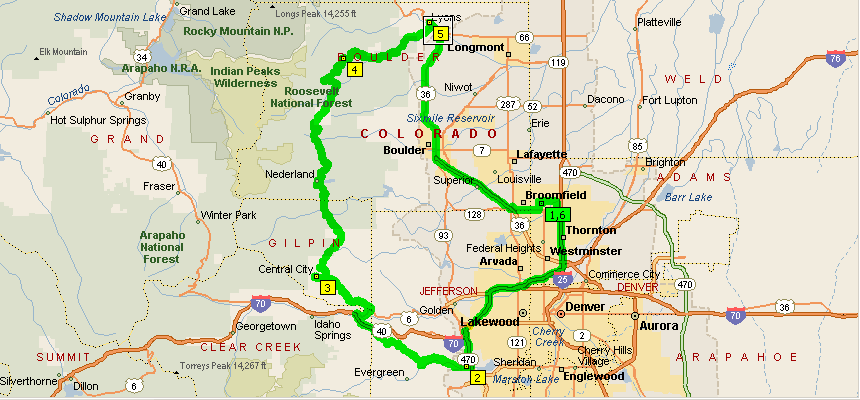 Ride From Morrison to Lyons
149 miles
Nice to see you guys again; Steve, Rich and Blake and nice to meet you Justin. Nice ride today. I really wanted to get out for a ride and enjoyed the run.
The day started out a little brisk with very clear blue skies. I bundled up and headed out.
I arrived at the Conoco in Morrison about 10 of 8, gassed up and headed down to the BMW breakfast at Red Rocks Grill. As I pulled up, I could see a bunch of BMW's on the right but there were a couple of Honda's in the front.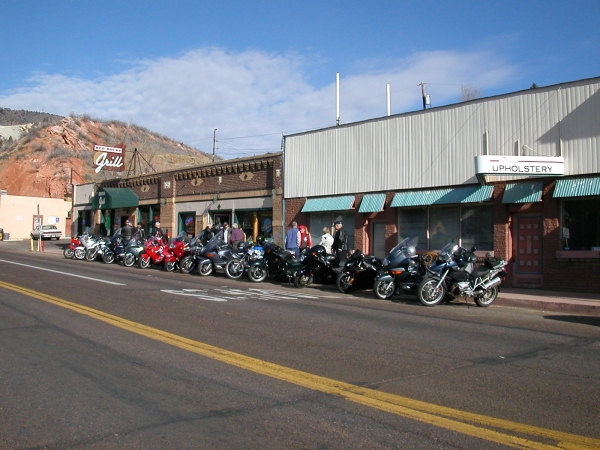 I looped around and parked the Hayabusa across the street and went across the street.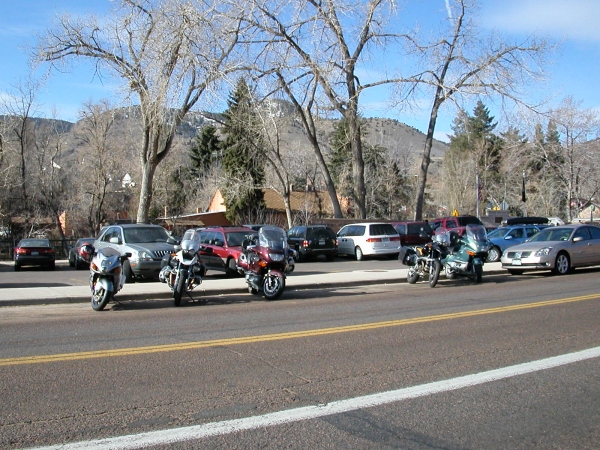 I met Rich and Blake and we headed in for breakfast. The BMW guys were all in the back and we grabbed our seats. Rich advised ordering from the sides menu since the portions were so large.

As 9am approached, we got our checks and headed out to meet the rest of the crew over at the Conoco.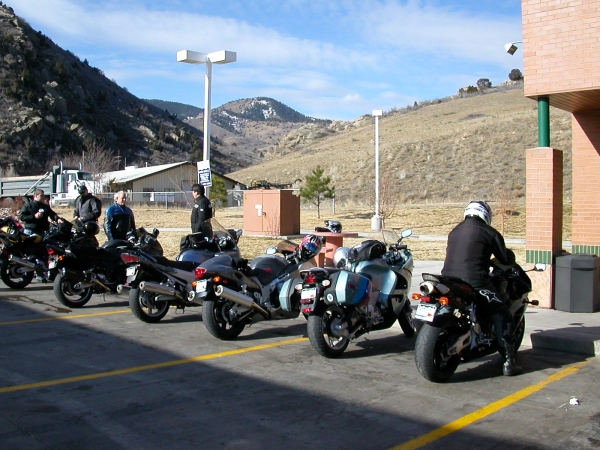 It turns out the BMW guys discovered we were heading out on a peak to peak and wanted to come along. I guess they just have an organized breakfast and no ride planned :D
We all headed out and up towards Evergreen. The ride up was pretty nice. Traffic was heavy enough that I was able to sightsee a little :)
We made the right in Evergreen and headed towards 70. At the entrance ramp for 70 west, 4 or 5 guys headed to the freeway but the others headed down the frontage road. Since I hadn't been down that way, I went with them. We hit 6, made a left and ended up on 70 anyway :)
We got off at the next exit (Central City) and hit the new parkway. Man that's a nice road. Nice sweeping turns, cool hairpins and four lanes so we can pass the slower cars and buses. As we ended up in Central City, a small group had pulled off to the right and a larger group pulled off after that to the left. We all got together and stopped briefly.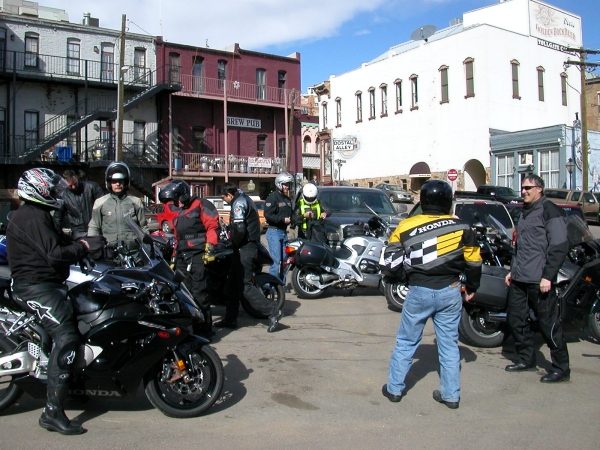 After the break we headed out to 119. I got out a little behind of everyone and had a nice run down 119 before catching up. Several of the BMW guys headed off to Golden Gate Park. The rest of us headed on down 119 towards Lyons.
Coming down the road we encountered some light snow flurries. Nothing bad enough to stop the ride though. There were wet spots and even one bit of ice in the road. There was also some bonehead in a Volvo that kept things a little slow. It didn't help that there was a thick line of sand on the centerline making passing difficult. He turned off in Nederland and we were happy to see him go.
After going through Nederland, we spotted a cop coming towards us. Rich later said his detector was pinging away which is why we slowed down to 35mph. I saw the cop turn around. He was behind another car. At one point, he slowed down even further, perhaps attempting to egg us on so we could contribute to the county fund :D
A few minutes later he pulled off and turned back around. We picked up the pace and we eventually caught up with the other riders.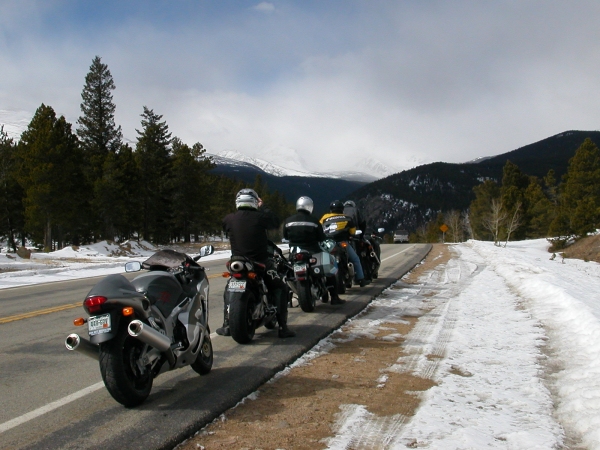 Steve had to take a little break.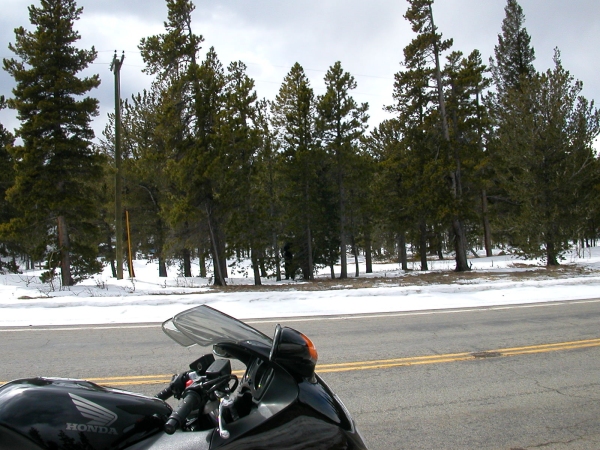 How can you not like the looks of a Hayabusa?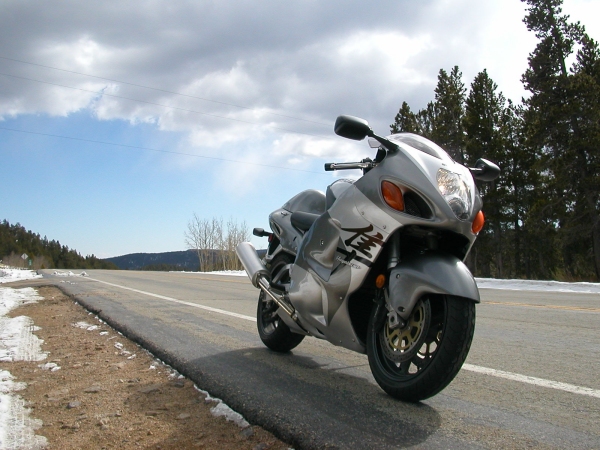 Or even a Blackbird?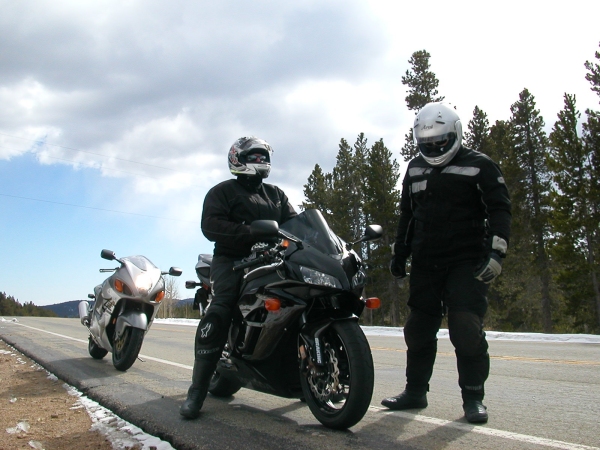 The BMW's look pretty good too I guess :D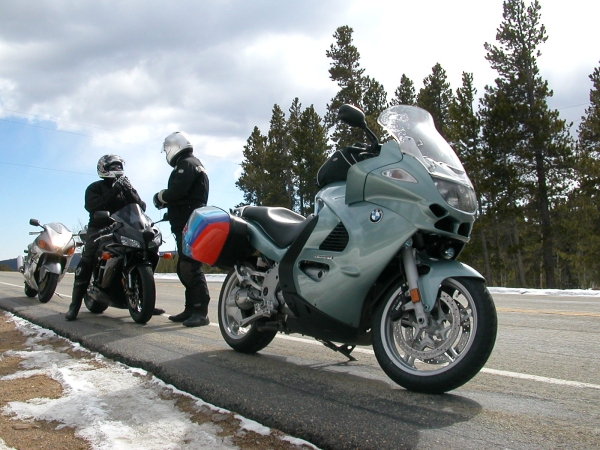 We headed on down 119 to 7 with dark clouds forming off to the west. 7 was a great ride on down to Lyons. I'm going to have to hit that road again. Nice sweeping curves and fairly light traffic. Lots of bicycles though.
We stopped at Stone Cup in Lyons and had a nice little lunch while sitting outside. I decided that 1pm was close enough for me and I bailed and headed home. It was even a nice ride home. Several cruiser type bikes and a couple of sportbikers.
Thanks again for the ride and for getting together once again. A couple of more times and I'll remember everyone's name :D
Carl