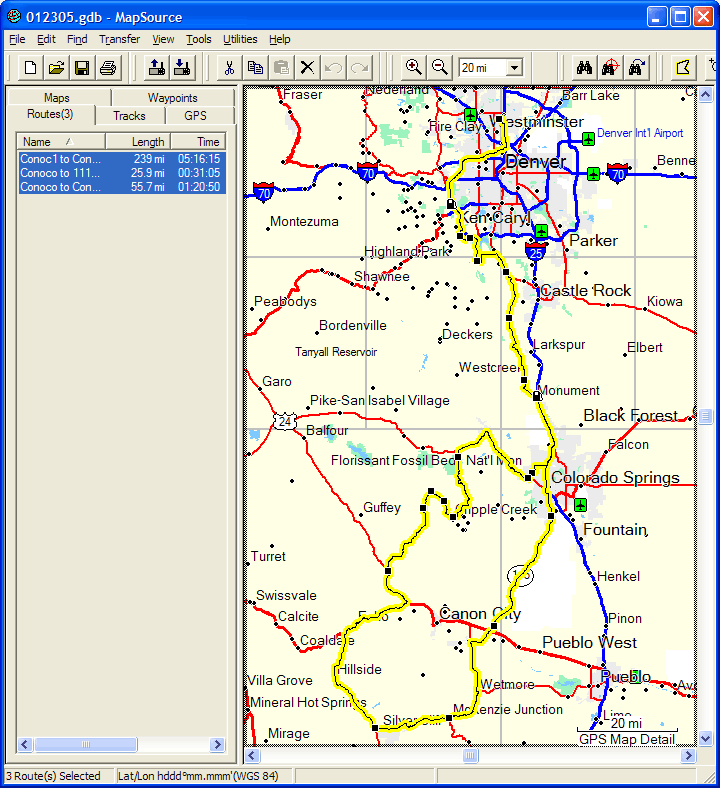 Ride to Westcliffe
Approximately 400 miles
I was sort of 50/50 on whether I wanted to go this morning. I do have other things I'd like to do; sidecar and welding being right up there. I sent my Gerbing's gloves off to Gerbing's last week to be repaired so I was missing a key piece of equipment. I figured that if it was too cold, I'd just not head out. But the thermometer showed it to be about 32 degrees sooo, I quickly grabbed my gear and headed out. I was late enough that I figured I'd hit the gas station at Morrison.
So I'm heading south on 25 and spot the exit for 76. The second exit is for 76 west. I hop over and see the sign; 25S to the left, 76W to the right. It's a 20mph loop and I find I'm on 76 eastbound for some reason. So it's 270 S and then 85 S until I see 70 W. At that point, I'm counting on the 10 minute wait we always do to catch latecomers. In fact, I make it to Morrison at 8:36.
I'm bad with names but with repeated greetings, I eventually get them locked in to my memory. So at Morrisons, Blake (blakebird) was there as was Rich Hall. I was introduced to the rider of the V-Strom but as I said, memory sucks (update: his name is Paris).
I tank up, hop in line and a few minutes later we head out.
I've been reading a performance riding book and itching to try out the cornering techniques. This seemed like a perfect opportunity. The main thing is to shift left and right in order to take the turns faster and in more control. I've been doing it a little here and there but this is the first chance at a day long ride where I can learn and get better.
While I don't remember all the road numbers we hit on the way to the next meeting point at Monument, I do remember the ride down 105 and all the nice turns. It was a nice morning with nary a cloud in the deep blue sky. It had warmed up just a little so my gloves were able to keep my hands warm enough.
At Monument, we met up with three other guys. I recall that there was a Carl and I'm pretty sure the other guy introduced himself as Carl also (update: name was Tim). He said he was a camp follower and wasn't on any of the forums. The last guy was Jeff and new to the area recently moving from Concord California (we chatted at lunch).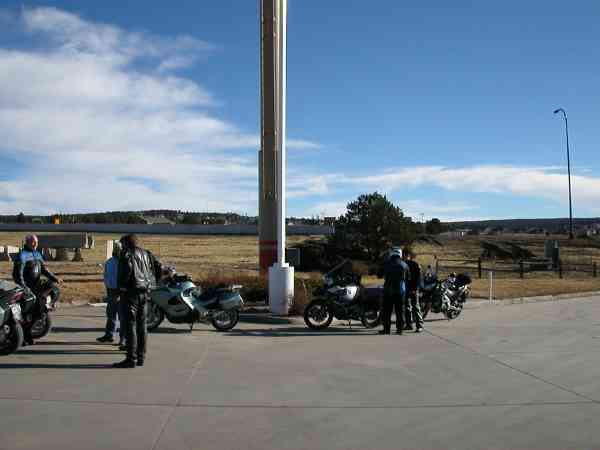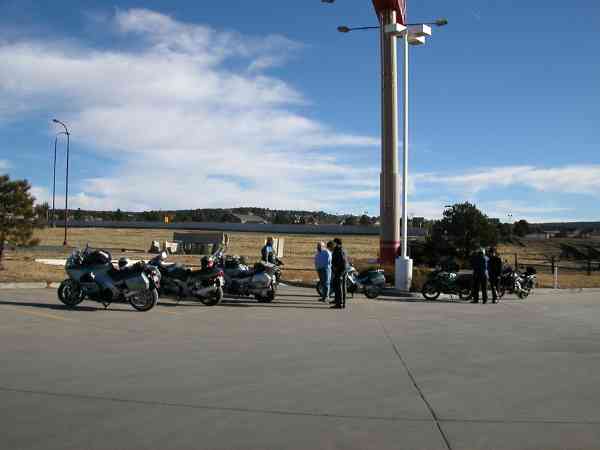 The route to Westcliffe was the opposite from the route we'd taken last summer. I really need to get a mount for my camera. There were lots of good picture opportunities but I didn't want to stop. We headed out on 25 south to Garden of the Gods and exited. The formations were awe inspiring as always. On the other side of of the park, we hit 24 west up to 67 and then down to Cripple Creek.
We went though Cripple Creek fairly slowly. We'd encountered a couple of cops on the way to town. There were lots of casinos in town which was a little disillusioning I guess. Maybe it's the song. We made a right at the other end of town and headed through Mueller State Park.
I'd been doing pretty well on the turns, maybe over dramatizing my turns (throwing my weight to the left and right on curves). At one 30mph turn, I shifted to the right and made the turn easily. But there's a second 30mph turn right after it. I make that one as well but it's not quite as easy. When the third 30mph turn shows up I was too hot and started heading towards the field. I paniced and touched the brakes sliding the back end a touch. Then I let up and kept heading to the field so I touched the brakes again, slid another couple of inches and recovered. I tasted fear and probably left a streak on the road I was a little wary for the next couple of turns but recovered my composure.
After a nice run through the park we made a left on 9 and then a right on 50. 50 was a very nice little ride. The curves were sweet and nothing much in the way of sand or anything except for a bit of wet road. I wicked it back down a little since shade+wet is a good chance of ice. At 69 south, we made a left and headed to Westcliffe.
We stopped and headed to the deli for lunch. We'd stopped one street over and had to walk a block to get lunch. Out front of the deli was a man eating an enormous pickle... wait, wrong story Out front of the deli was a VStar and another bike (someone identified it but I forgot what it was). Preparation was rather slow but the food was good. I harassed the young lady because she didn't recycle aluminum cans considering all the paraphanalia on the walls.
We bailed at 2pm and after a stop for gas, headed down 96. After a couple of minutes we stopped on the side of the road because there were only three of us riding. Apparently one of the bikes stopped briefly on the way out of town. When they showed up, we took off towards Florence.
The curves here were the best. I had been practicing and was under control. We were hitting them pretty fast. At one point, I was a little hot and a truck was in oncoming lane. I leaned over even farther and pushed hard on the upper handlebar to force the bike farther into the lean and recovered it just a few inches to the right of the centerline. Not much farther down, I did it again but since there was no oncoming traffic I let it cross the centerline.
After Florence, we hit 115 and headed back to Colorado Springs. It was a nice leasurely ride back to the springs. We went by the coffee place (Bear Coffee?) we'd started at last year. There didn't seem to be an identified stopping point although the coffee place would have been nice At Nevada, Jeff split off (I remember the street because of the Games ride last year where I missed the turn to the Harley Davidson place; I seem to miss turns quite often. Must be age)
Blake bailed at Interquest Parkway and about that point, I passed the leader waving and headed home.
All in all, it was a nice day for a ride. My shoulders are very sore now, possibly because of the learning I was doing. We'd also gone skiing on Thursday and Friday so I was probably a bit tired.
It was good to meet everyone and I hope to make another run. It's always great to ride in the mountains of Colorado in January.
Carl