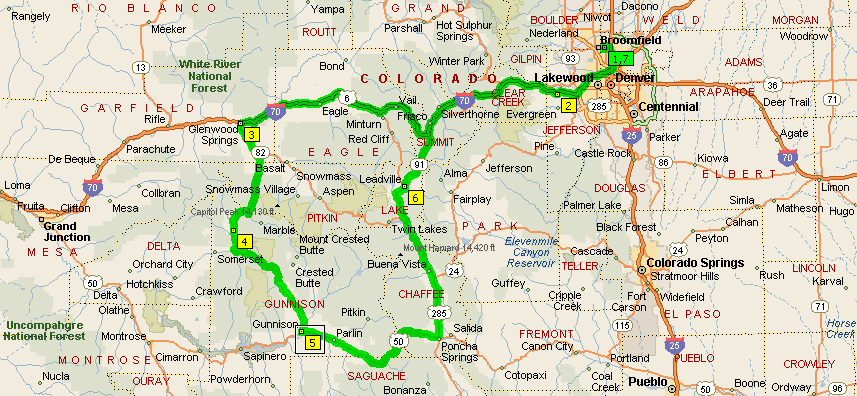 Glenwood Springs -> Gunnison -> Monarch Pass -> Leadville
6am to 4:48pm - 520 Miles
September 12th, 2004
Ride Pictures
Back in August I went on a HSTA Games Ride, a sort of Poker Run where points are given out for certain goals. Being new to the area, I chose an easy route and simply visited the two 14,000 foot peaks; Pikes Peak and Mount Evans. Interested, I decided to take the points rides and explore more of Colorado. It might give me a leg up next year if I know where things are and how long it takes me to get around. I also wanted to evaluate the points since 500 for going up Pikes Peak seemed woefully inadequate since half of the ride is on a dirt road. So I choose to go down to Gunnison by way of Glenwood Springs and back over Monarch Pass up to Leadville and then home.
Saturday evening I posted a note to the co-hsta list to see if anyone would be willing to go on a ride with me Sunday morning. I said I'd be waiting at El Rancho (marker 2 on the map) until 7am. I really didn't expect anyone to show up due mainly to the lateness of the message but possibly because of my relative new status on the list or because I'm not on a Honda :-) It is the Honda Sport-Touring Association mailing list. In any case, I got there about 10 minutes late. I grabbed a battery, a soda and an apple pie and hung out until about 10 after 7. I needed a new battery for my comm system and a soda for the caffeine.
At 10 after, I hopped on the bike and headed out to 70. I had to stop to adjust the battery (the terminal is broken and I haven't replaced it yet) but then I was off.
It was a beautiful and cold morning. I had my Gerbing's on as well as all my Joe Rocket gear; jacket and pants. The Eisenhower Tunnel was much better when I could ride at my own pace. The ride down the other side was very fun and interesting. I was staying with several other cars and the nice sweeping turns weren't causing any strain. One car kept hitting her brakes when she got to some of the turns but she kept her speed up. I was 4 or 5 seconds behind her and as I checked my speed, I realized we were doing 90 down the pass.
At the bottom I pulled off at a scenic area and snapped a few pictures of the mountains and the lake, partially to cool off from the ride down.
I went through Glenwood Canyon on the way back from our last trip. Going through in the other direction so soon afterwards let me experience the canyon differently since the roads aren't totally parallel. With the sun behind me, the canyon lit up quite well.
In Glenwood Springs I took the 82 South exit. There were signs talking about a bicycle event. In the parking lot there were hundreds of bikes and at the exit there was a flagman who let me go after a bike went by. I looped around following the signs for 82 south. A quick stop at a vacant parking lot and I found I was running about 20 minutes behind schedule.